Represented in Scandinavia by Michael Quvang/Music Quay.
(For Danish scroll down)
Music2Deal is the international Music Business Network that connects music professionals and keeps you in contact about music opportunities so you can make deals happen. Expose your music and videos to people that have interest in new or specific music offers.
Get in Contact with other music professionals about Music Offers and Music Wants.
Stay in Contact with them about the important things and don't miss their business opportunities.
Join over 10,000 proven music professionals for free. Press the picture below and you will be redirected to Music 2 Deal.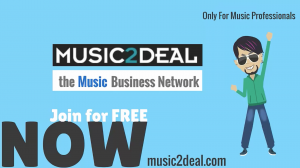 /\

\/
Music2Deal er et internationalt netværk som knytter kontakter mellem artister, sangskrivere og professionelle i musik branchen. Det er et lukket netværk og adgangsbetingelsen er at du enten er noget ved musikken eller udøvende artist eller sangskriver.
Kom i kontakt med andre professionelle i musikbranchen, tilbyd din musik i Music Offers og søg efter nye hits og emner i Music Wants.
Hold kontakt med dine forretningsforbindelser og kontakter i musikbranchen.
Gør som 10.000 andre godkendte medlemmer af Music 2 Deal, tilmeld dig nu – det er gratis. Tryk på billedet nedenfor for at besøge Music 2 Deal.