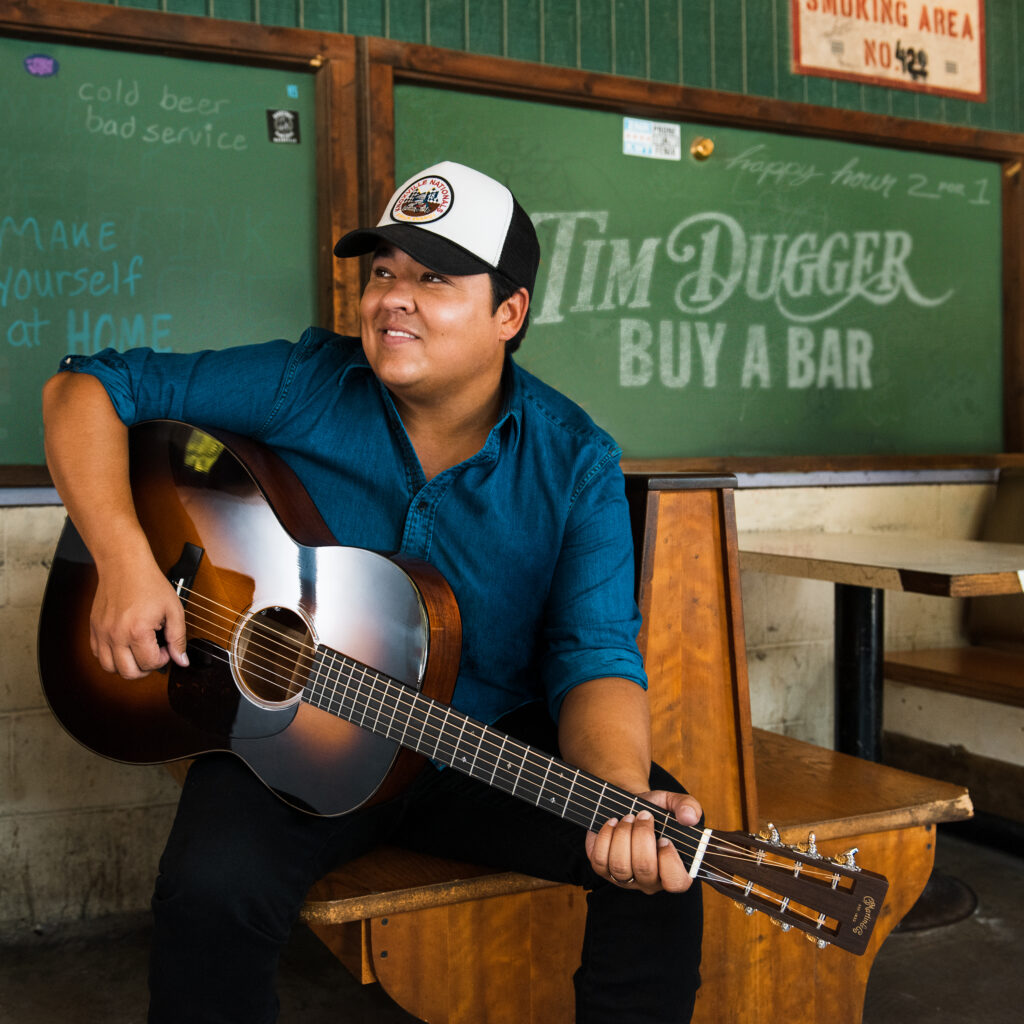 Tim Dugger trades heartbreak for enterprise on the new track 'Buy A Bar' The lyrically clever original evolves into a full-on singalong when the Curb records artist reasons he's spending som much time down at the local watering hole drowning his sorrows, he might as well just cash in all his chips and buy the place. Perhaps then he'll finally drink away the memory of the girl he just lost. The Alabama native perfectly captures the agony of a breakup in this quintessential country song tailor made for every small town dive across America. 'Buy a Bar' was written by Brandon Kinney and Josh Thompson and produced by Brandon Hood.
Country Music singer/songwriter Tim Dugger has literally found the fast track to success. That's because he's combined his passion for music and racing into a loyal fanbase that includes the likes of top NASCAR drivers within the sport. The Alabama native has played concerts at every major race track in the country—with the exception of two. In fact, he's played Talladega Superspeedway, the track he grew up visiting annually, nine times. "I grew up watching racing with my dad, and I grew up a Dale Earnhardt fan," Dugger shares. "In my town where I'm from—Randolph County, Alabama—there's no bars, no music scene." Instead, he sang in church, where he and his sister formed a Southern Gospel duo.
However, Dugger was also raised on a love of Country music and a respect for the road. He witnessed his father crisscrossing the country in the cab of a tractor-trailer, scanning the radio dial for dedications from his wife, who would call in to Country stations and request his favorite songs. During the summers, Dugger's parents would drop him off at the local music store, where he would play with retired banjo and guitar pickers. It's experiences like these that helped shape his classic Country sound and relatable persona. "Everything makes you who you are. I don't recognize the man I was a few years ago," Dugger admits. "Now I think I know who I am, and musically, you need to know who you are. When you write a song, you're going to affect people's lives, so you better have something to say." Dugger has spent the last decade mining his truth, all the while honing a work ethic that's unmatched. He never goes more than two weeks without playing a show.
If he's not exploring a hole-in-the-wall honky tonk or watching a race, you can find him in Nashville—where he now lives with his wife—perfecting his craft alongside some of Nashville's best songwriters. When he's on the road, you just might find Dugger at a dive bar near a race track on a cold beer night—a place that feels like home for the singer. "I've had so many late nights and smoky bars and shows. I feel like I went to Honky Tonk University," he says. "I got something you can't pay for. You have to live it."